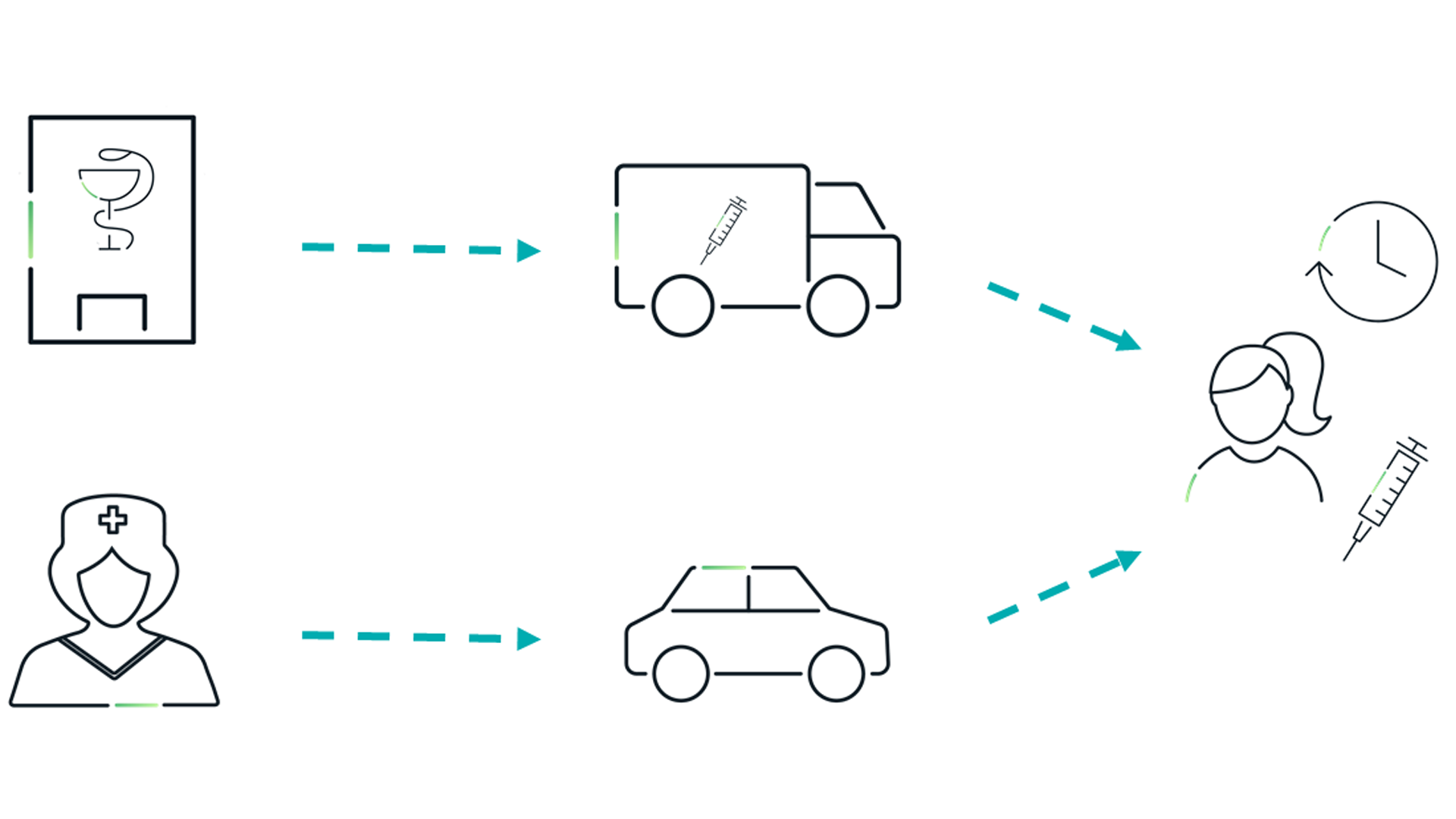 The Challenge
A CRO faced the challenge of improving the patient-centricity of their clinical trials on a broader spectrum. They experienced a significant decrease in acquisition rates, followed by decreasing retention rates during their trials. To compensate and improve the decreasing numbers, the company decided to shift towards more patient-centered home-based clinical trials.
The clinical research organization quickly learned about the existing approach towards home-based clinical trials and the challenges of the specialty courier meeting at the patient's home at the same time as the nurse or doctor did. Furthermore, they knew the potential dangers of storing medication at the patient's fridge, such as different temperature zones, changing temperature and conditions, as well as access to the medicines by other family members like children.
Dissatisfied on the complexity of current direct-to-patient models, the narrow time frame for the nurse resulting in less time for the patient, and the excellent coordination of all stakeholders involved, the CRO was looking for a better solution.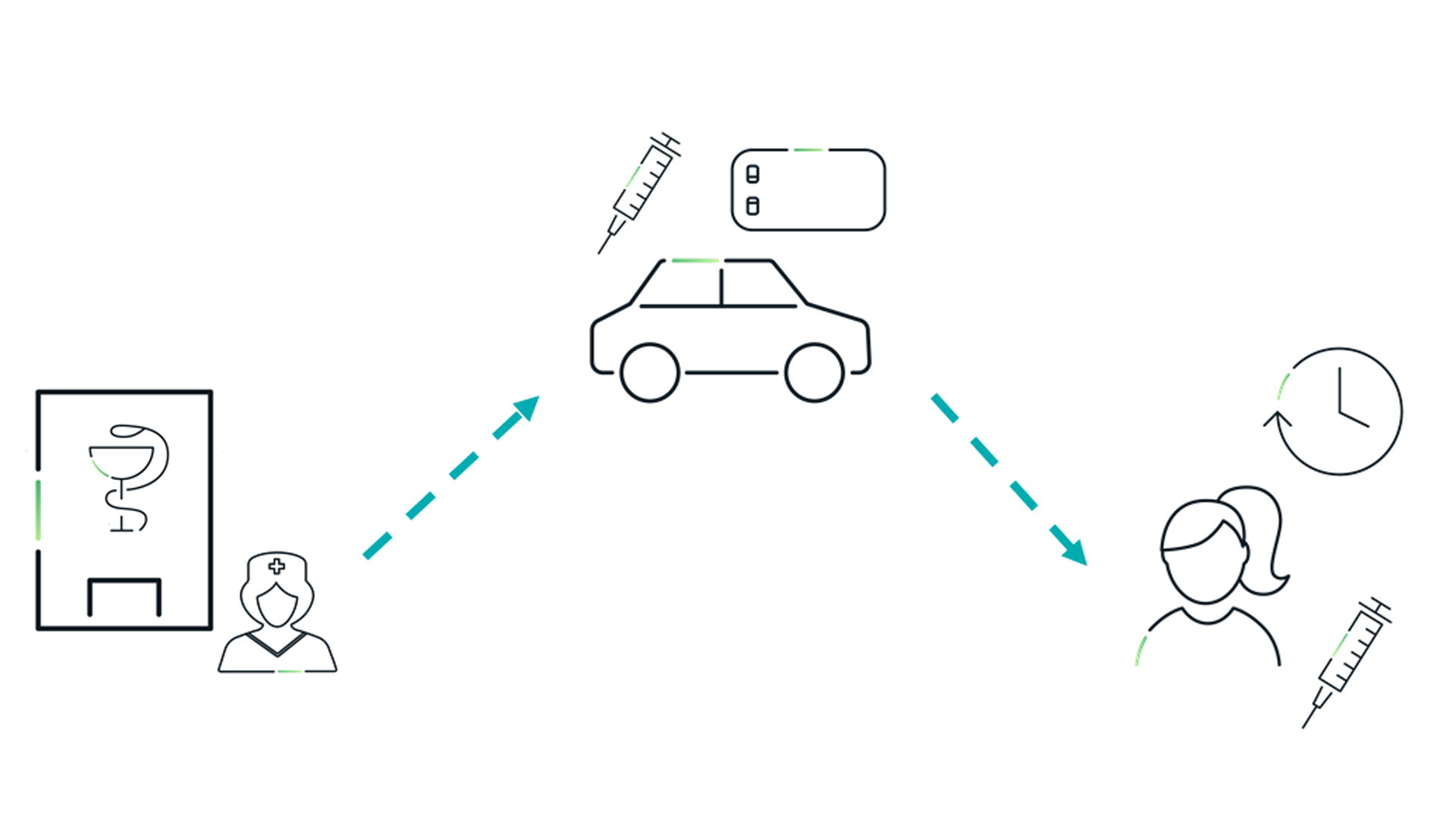 The Solution
Tec4med proposed using the NelumBox as a portable fridge for the nurse to carry the medication to the patient. The CRO came up with the idea of storing the drug at the patient's home. The integration of NelumBox's lock and real-time monitoring device keeping medicine at the right temperature even in the case of a blackout thanks to the batteries.
By storing medication at the patient's home, the CRO can reduce the number of deliveries by a specialty courier to once a month instead of 3 times a week. As a result of this, the IMP is stored throughout the month in the NelumBox securely locked and monitored through Tec4Cloud. To administer the medicine, the nurse unlocks NelumBox with her personalized access token and locks it after.
Thanks to the medication storage at the patient's home, not only the nurses improve their flexibility, but also the patient. Reducing the number of shipments, the patient gets rid of a tight schedule of couriers delivering the drug multiple times a week. So far, this project shows an increase in acquisition rates due to the home-based approach.
For the CRO, the amount of coordination effort for all parties involved decreased successfully, implementing a safe and secure direct-to-patient model.
Furthermore
In the future, more and more smart injectables will find their use in clinical trials. NelumBox is ready for that change today. To additionally increase the patient's freedom throughout the participation of the clinical trial in the future, patients can administer medicine on their own, tracking the adherence fully transparent through smart wearables und other monitoring services connecting to a secure database. Not only NelumBox is capable of providing such services the SmartHub functions as a gateway as well.
NelumBox
Discover innovative and revolutionary ways of providing the best quality of patient-centered services, improving the quality, while at the same time cutting costs, and adding additional value.
Increase flexibility

Decrease bureaucracy

Improve the quality of your service

Digitalize & automize processes

Significantly cut costs