Multi-use passive systems with lock-function
Combining Tec4med's smart tracking solutions with the latest standard of passive shipper systems provides a new level of supply chain visibility. With the Bito HighPerformance shipper, Tec4med offers a new standard of robust multi-use boxes for demanding temperature-controlled deliveries. 
Digitize your overall supply chain by simply connecting any of our high-performance shippers to the Tec4Cloud with our smart Beacon series. Tracking all relevant data of the payload at the inside, the Beacons can be easily read out from the outside the shipper via Tec4App or gateway, providing maximum data visibility as a digital twin. For next-level security, integrating the SmartLock digital seal offers maximum control of the asset, providing and tracking access of your most valuable goods in real-time and by offering end-to-end supply chain visibility around the globe.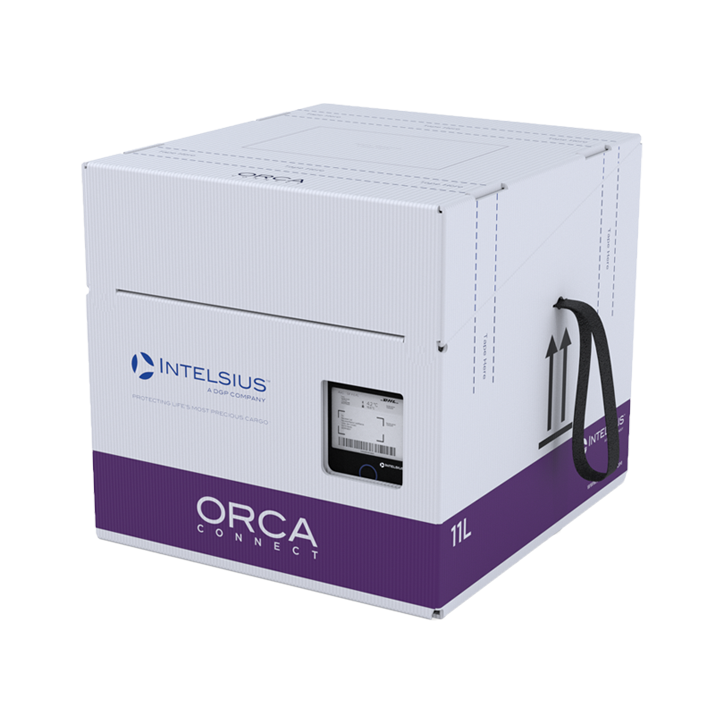 Reusable passive systems
Combine Tec4med's smart tracking solutions with the latest passive shipper systems for high-performance single-use or commercial multi-use applications. The Orca MX passive shipper family is offering the full integration of the SmartHub and Beacon tracking technology to ensure end-to-end supply chain visibility in real-time. Enjoy the easiest and safest way of monitoring your pharmaceuticals, samples, or other temperature-sensitive goods around the globe. 
Choose from a variety of different sizes and temperature ranges and combine them with our smart tracking solutions. Customize your shipper and tracking solution to fulfill your tracking and shipping needs.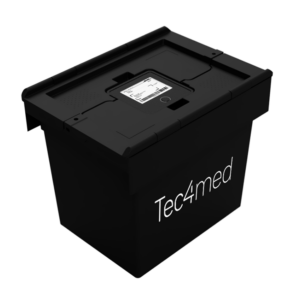 Multi-Use Box
Temperature ranges
-25...-15°C | 2...8°C | 15...25°C | -78°C (dry ice)
Cooling unit
PCM (Phase Change Material)
Runtime
Up to 105 hours (depending on configuration)
Qualification
ISTA 7E and AFNOR
Data logging (optional)
(Temp-, Smart-, Cryo-)Beacon integration for tracking temperature, shock and humidity and geo-position, manual readout from the outside via Tec4App or automated via SmartHub and SmartLock
Real-time tracking (optional)
SmartLock integration into the parcel lid for seal and locking functionality, shipping label on e-ink display, real-time tracking of temperature, humidity, geo-position, access, shock, motion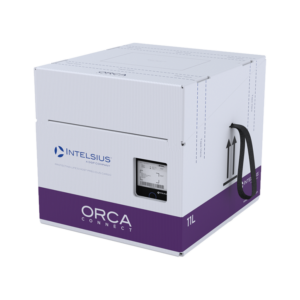 OrcaMX
Type
Oneway & reusable box
Sizes
5, 12, 24, 50 liter (net)
Temperature ranges
-25...-15°C | 2...8°C | 15...25°C | -78°C (dry ice)
Cooling unit
PCM (Phase Change Material)
Runtime
Up to 140 hours (depending on configuration)
Qualification
ISTA 7E and AFNOR
Data logging (optional)
(Temp-, Smart-, Cryo-)Beacon integration for tracking temperature, shock and humidity and geo-position, manual readout from the outside via Tec4App or automated via SmartHub and SmartLock
Real-time tracking (optional)
SmartHub integration for shipping label on e-ink display, real-time tracking of temperature, humidity, geo-position, access, shock, motion