Traveling itself, whether it's a business trip or vacation, can be stressful. Adding to this endeavor, the need to have your drugs always cooled at +2°C to +8°C makes it even harder. As a helping hand, this travel guide will lead you through the steps that are important before starting the journey.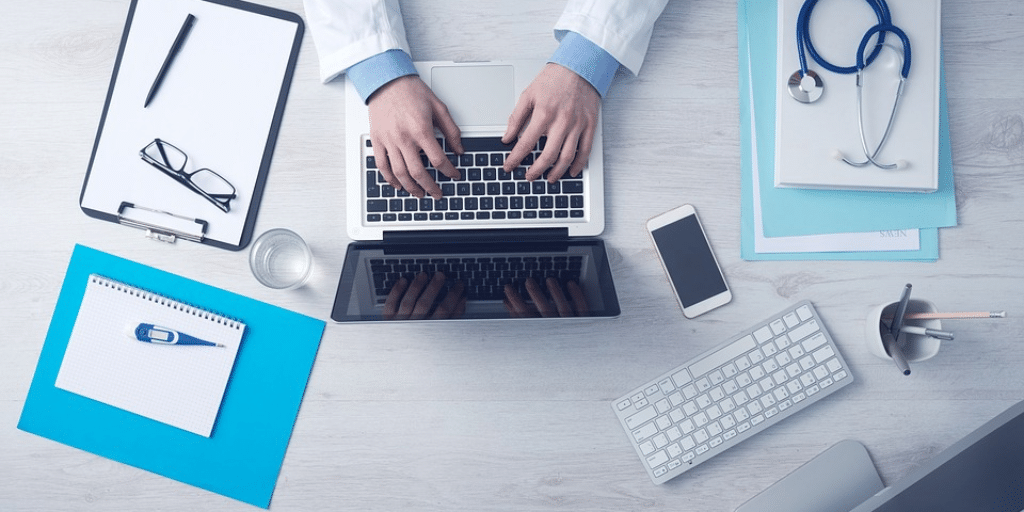 Before you dive deeper into planning a trip, talk to your doctor first. He/she will provide you with useful advice. It's not the first time your doctor will hear these questions. He/She can answer out of the experiences of others that went through the same struggles you are facing right now. Also, make sure your doctor gives you a document which states your disease and your need for the medication, including the exact names of pharmaceuticals you will travel with. This is necessary to cross borders and security checks at the airport.
Next, make sure to have an extra amount of your drugs that exceed your estimated length of travel. There is always the possibility of losing a package. Sometimes these expensive goods get stolen. Having an emergency unit of drugs with you can save time, money and in a dangerous situation, even your life.
Before leaving your home, make sure you took care of an unbroken cold chain from the beginning until the end of the journey. Consider possible delays, such as traffic jams or flight cancelations. If your average travel time is eight hours, prepare your cooling bag to last for at least twelve hours. This will give a more laid-back feeling and calm you down in case of delay.
In case you are using passive shippers, please inform yourself before traveling how to package your cold chain requiring drugs accordingly. Not only the ice packs have to be preconditioned at a specific temperature to maintain the cooling for the most efficient period, but also the way the passive shipper must be packed is highly error-prone. Your medication must under no circumstances touch the icepacks if they do so there is a high risk, that your medication drops below +2°C or even freezes, which can be devastating and life-threatening because of ice crystallization.
At the time you enter a security check, make sure to have all your papers ready. Carry the drugs in its original packaging with the package insert included. Always bring the doctor's paper in English. If you travel to a country where it's unlikely that the security agents speak English, it may be useful to translate the document beforehand into their native language.
Always have the medication in eyesight. If you travel on your own, take the drugs with you to the bathroom or ask a trustworthy person to look after it for a few minutes. Losing it, for whatever reason, will cause a lot of trouble and worsen your trip unnecessarily.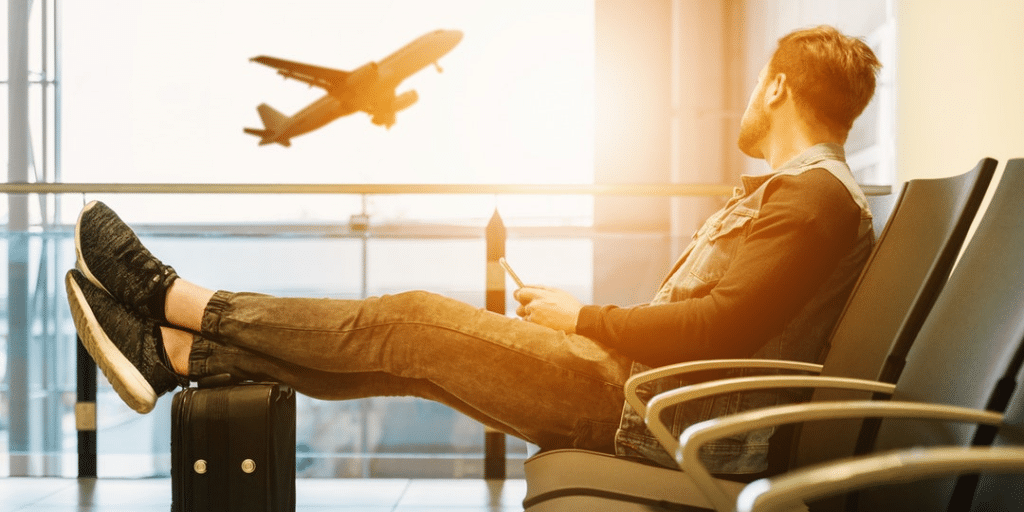 Whenever you get the chance to charge your active cooler or cool down your cooling pads, do so. Ask the waiter in a bar or restaurant for charging options. You never know for sure when the next opportunity will occur.
Some of the modern aircraft have inbuild plug sockets which you can use to charge your active cooler. Make sure to always carry your medication on board, since the temperatures in the plane's cargo bay may fall under 0°C and therefore destroys your medication. In case you are using cooling pads, you can always ask the flight attendant to bring you ice cubes. This is not a very sophisticated solution, and we do not recommend, but if it is the only solution, it is better than leaving your drugs wholly unprotected to the heat. Even if airplanes themselves have low temperature in the cabin, it's still between +20°C and +24°C. The low temperature is better for the passenger's health in case of circulation and makes it easier to fall asleep on long trips.
In case you travel a long distance, let's say more than twelve hours with change of planes, it might be necessary to plan a layover at your transfer city. Especially with the passive cooling pads, it's unlikely they will last longer than ten hours. Refreezing them in a fridge will take time, to make sure they are frozen, consider 24 hours.
If you like to spare the stress with passive shippers, we recommend active cooling solutions. NelumBox, for example, is capable of 24 hours runtime, which can easily be doubled by packing two extra batteries. Besides, you do not have to worry about packaging or any layovers, because you can recharge NelumBox at any given electricity source, even though a lighter plug in your car.
After you arrived at your destination, try not to sleep in the daytime to prevent your body from getting severe jetlag. At the first day of arrival, neglect exhausting actions like hiking or hour-long bus trips. Considering your medication, you need to put into account that you must get used to the change of time. If you travel eastwards, take your medication two hours earlier. When going westwards, take them two hours later than usual, until your cycle fits the cycle you're used to. An example of traveling from Europe to the US: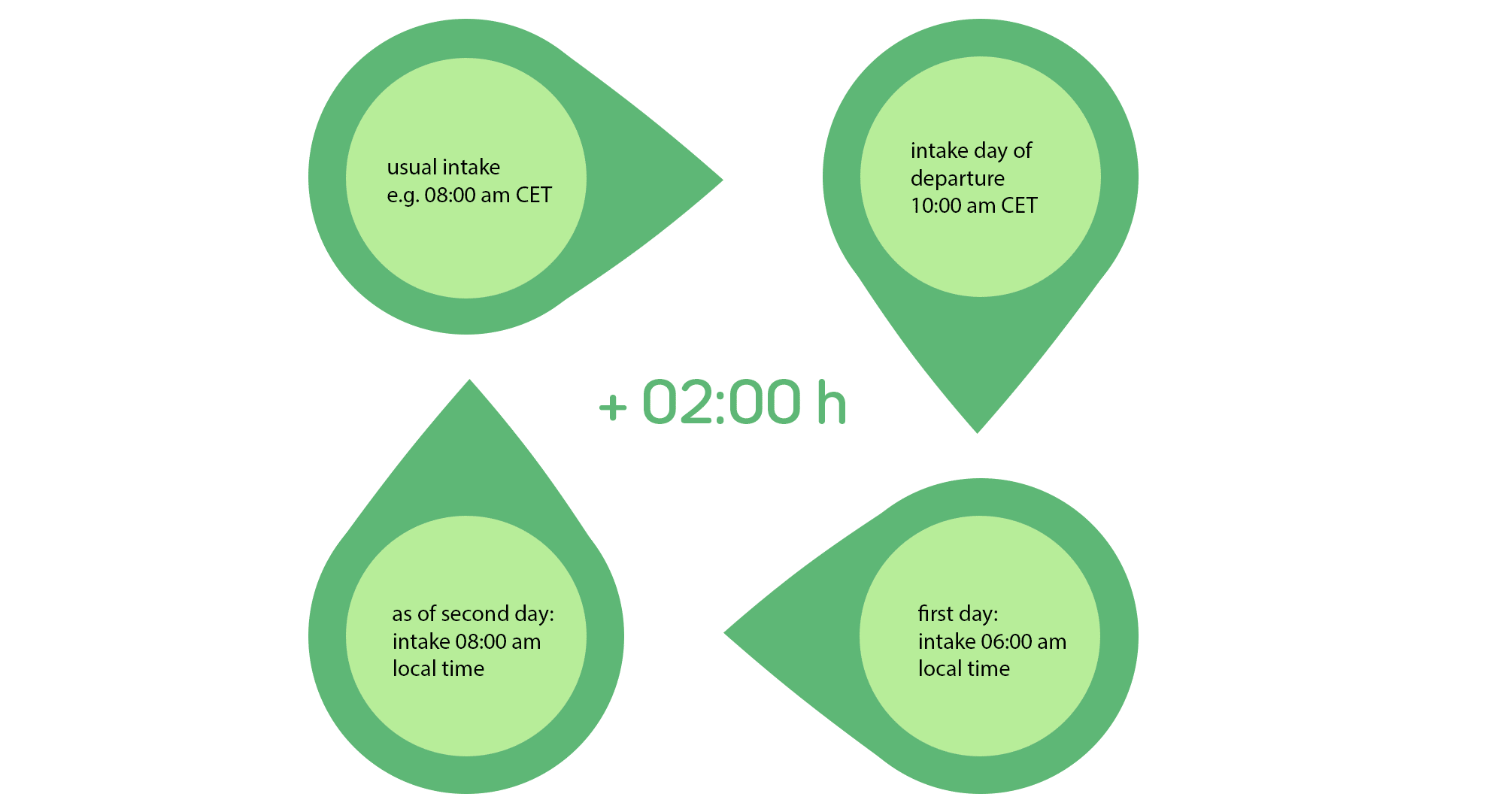 Your destination also defines the effort that goes into your cooling solution. A trip to the Antarctic, for instance, will save you a lot of energy in cooling your medication – maybe you will need to warm them.
On the contrary, a trip to the Sahara or Amazon will be crucial to the battery life and cooling pads. Humidity, dustiness, and infrastructure of your destination are essential information. If you are unsure, whether your cooling solution can deal with the circumstances, contact the manufacturer beforehand. Make sure to get a written statement in case of warranty.
You were able to maintain the temperature while traveling, but how do you keep your medication cool for the duration of your stay? While the minibar seems the obvious choice most minibars are not capable of cooling between +2°C to +8°C. Most minibars do not even show you the temperature they are currently at, on top of that they do not reliably keep the necessary temperature range.
The only option you have is to use a fridge in the hotel kitchen or a fridge at your Airbnb. Although studies show, that over 50% of pharmaceuticals stored in fridges lose their efficiency because of a temperature excursion. Taking this into account we recommend using an active cooling solution, such as NelumBox to have a pleasant trip and relaxing stay. Enjoy your flexibility and carefreeness with NelumBox, instead of worrying about the right cold chain.
Repeat the relevant steps when traveling to your next destination or back home.
For further information feel free to write us an email to info(at)tec4med.com. We are more than happy to answer all your questions.