Certifications & Quality Management
Work processes, test procedures and the manufacture of Tec4med products are measured against the highest pharmaceutical standards.
ISO 9001
With the introduction of a quality management system (QMS), Tec4med Lifescience GmbH meets the requirements of the ISO 9001 standard and has been certified by TÜV Süd since 2022. ISO 9001 specifies the minimum requirements of the QMS that must be implemented in order to meet customer requirements as well as requirements for product and service quality.
The certification underlines Tec4med Liefescience GmbH's strong commitment to serving the pharmaceutical industry with high-quality solutions. The team at Tec4med works hard to improve not only the products but also the quality of work every day to deliver the best IoT, cloud, and packaging solutions on the market.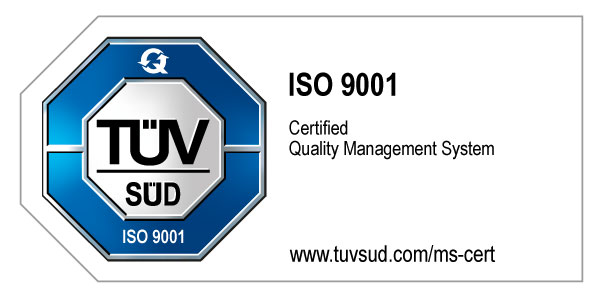 ISO/IEC 17025 & DaKKs calibration
To ensure reliable measurement results, Tec4med Lifescience GmbH tests and calibrates products for recording data according to the standards of DaKKs or ISO/IEC 17025 calibration. This sets out general requirements for competence, impartiality, and for the uniform operation of laboratories and is applicable to all organizations that carry out laboratory activities. Whether private individuals or laboratories: equally high standards of calibration apply to Tec4med products.
ISTA & AFNOR temperature profiles
The tests and packaging qualifications of the thermal test procedures are carried out at Tec4med in environmental test chambers using ISTA 7E & AFNOR summer and winter profiles. The tests with these profiles comply with the usual industry standards.
During the cyclic profiles, the packaging is exposed to realistic temperature effects. Depending on the profile, this varies between high summer temperatures of over 30°C and extreme winter temperatures of down to -20°C. Thus, with the help of the test chambers, every realistic scenario, e.g. of a shipping route, can be reproduced. Customized profiles, different from the ISTA & AFNOR standards, are also possible to simulate other everyday scenarios.
CFR Part 11 conformity & data security
The documentation in Cloud & App complies with Title 21 CFR Part 11, which sets out the United States Food and Drug Administration (FDA) regulations on electronic records and electronic signatures (ERES). Part 11 defines the criteria by which electronic records and electronic signatures are considered trustworthy, reliable, and equivalent to paper records. All Tec4med digital products adhere to these high standards and offer confidential handling of any data. The integrity of data security is our highest priority, which we achieve through encryption techniques and the server location in Frankfurt.